Steps to your new website creation . . .
1. Initial Consultation
Bit-Media will arrange to meet the client to discuss their individual website requirements. A list of 'likes' and 'dislikes' will be put together with a comparison of similar industry websites. Media content (photos/video etc.) will be discussed and text content will be considered.
2. Website Design & Build
The website will be assembled before the next consultation and further requirements/changes can be discussed. We can capture and prepare additional images/video/audio to suit the clients needs if required. All of our websites are developed to be fully responsive and able to operate whatever the size of the screen (Computer, TV, tablet etc.). Sites are built with Wordpress; the industry-leading platform for editing and maintaining websites and blogs.
3. Publication & SEO
The draft website will be presented to the client and pending their approval will be published to the internet.
4. Maintenance
The website can be modified or added to at very short notice by contacting Tadhg 24/7. Alternatively, we offer simple Content Management Systems that allow the client to upload their own content using a simple browser interface.
Bit-Media will perform periodic security updates and regularly back-up website content.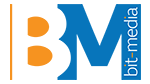 Bit-Media (Equestrian) Ireland
VAT Reg.: IE8002285A
© All Rights Reserved 2022